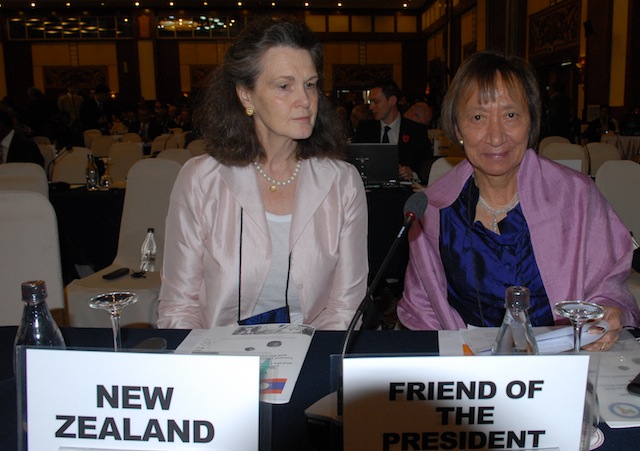 Humanitarian disarmament covers a range of weapons and technologies that inflict harm and pose particular risk to civilian populations, both during and after conflict. The approach is presented collectively by activists in the Communique and Report of the inaugural Humanitarian Disarmament Campaigns Summit held in New York in October 2012.
About Humanitarian Disarmament
Humanitarian disarmament seeks to both prevent future harm and assist people affected by conflict. The framework addresses a range of different weapons and technologies from small arms to nuclear weapons, as detailed in the Portfolio of challenges.
Humanitarian disarmament treaties and campaigns often focus on abolition as the most lasting and clear solution. Such measures differ markedly from alternative approaches aimed at regulating the proliferation of weapons. In this sense, humanitarian disarmament aims to change the discourse by challenging orthodox national security-focused arms control approaches. (See Lessons learned from humanitarian disarmament initiatives)
Over the past 20 years, multilateral processes have resulted in the creation of three innovative treaties that embrace both humanitarian and disarmament objectives: the 1997 Mine Ban Treaty, the 2008 Convention on Cluster Munitions, and the 2017 Treaty on the Prohibition of Nuclear Weapons. These sister conventions comprehensively prohibit antipersonnel landmines and cluster bombs respectively. They include humanitarian provisions requiring clearance of affected land and victim assistance as well as disarmament obligations, such as stockpile destruction.
Other arms treaties such as the 1993 Chemical Weapons Convention have been underpinned by similar rationale to protect civilians from harm, while some describe the 1980 Convention on Conventional Weapons as the "original" humanitarian disarmament instrument.
In the same period, traditional multilateral disarmament diplomacy has faltered, especially in banning nuclear weapons, as demonstrated by the Conference on Disarmament's failure to engage in any substantive work for almost two decades. (See Chronology of major milestones)
The calendar of regular multilateral disarmament bodies has become intertwined with the less formal, but dynamic and emerging humanitarian disarmament agenda. Considerable effort is being dedicated to ensuring transparency and compliance with existing international treaty law, including through regular meetings, monitoring initiatives, and innovative ideas. While major challenges lie ahead to tackle new weapons developments and emerging technologies. (See Schedule of major upcoming events)
The humanitarian disarmament treaties to ban antipersonnel landmines and cluster bombs were created through unconventional fast-track diplomatic processes, involving common and coordinated action by  alliances of like-minded small and medium-sized governments, key UN agencies, the International Committee of the Red Cross (ICRC), and non-governmental organizations (NGOs). Civil society opposition is usually coordinated by dedicated single-issue international coalition. Advocacy and research by NGOs and individuals as a form of  "citizen diplomacy" is a prominent feature of humanitarian disarmament. (See Links to coalitions, NGOs, and others)
About this Blog
This blog and the accompanying Twitter feed are part of the package of communications tools prepared for the Humanitarian Disarmament Campaigns Summit convened by Human Rights Watch (HRW) in New York in October 2012 on the 20th anniversary of the International Campaign to Ban Landmines (ICBL).
This inaugural meeting of the global civil society coalitions working to advance humanitarian disarmament has since been followed each October by various conveners: Article 36 and PAX in 2013; Control Arms and the Women's International League for Peace and Freedom in 2014; Oxfam and Save the Children in 2015; Handicap International, Mines Action Canada, and the International Campaign to Abolish Nuclear Weapons in 2016; Human Rights Watch, Harvard Law School International Human Rights Clinic, and PAX in 2017; Forum on the Arms Trade and CIVIC in 2018; and the Colombian Campaign to Ban Landmines in 2019.  The hosts of these previous meetings provide an informal advisory group to guide the process of convening this now-annual gathering of humanitarian disarmament activists.
The blog's "Ministry for Disarmament" title refers to the New Zealand government's unexpected disestablishment of its Minister for Disarmament and Arms Control in December 2011. For 25 years, New Zealand was unique in the world in having a dedicated Minister for Disarmament and Arms Control, a position that enabled the country to play a leadership role in international disarmament efforts. The call for this ministerial position to be reinstated and for the necessary resourcing to be dedicated to New Zealand diplomacy in humanitarian disarmament applies to all countries.
In February 2018, New Zealand Prime Minister Jacinda Arden announced that she was reinstating the Minister for Disarmament and Arms Control portfolio, assigning it to foreign minister Winston Peters.
This "Ministry for Disarmament" blog has provided a reference point and positive voice of encouragement for the ever-expanding community of activists dedicated to advancing humanitarian disarmament. It has not sought to replicate/replace or to direct/coordinate the work being undertaken by these actors, but rather exists to reinforce, explain, and support existing and new initiatives by providing briefings and information on humanitarian disarmament challenges as they develop. The site has been updated infrequently since 2012 by HRW's Mary Wareham, but does not represent the views of HRW or any other organization.
Since this site is rarely updated we recommend the humanitarian disarmament website managed by Harvard Law School's International Human Rights Clinic.
For more information, see also:
Communique and Report of the Humanitarian Disarmament Campaigns Summit held in New York on October 20-21, 2012 (PDF)